Many factors in a woman's life can lead to an unshapely figure. At Avana Plastic Surgery, our surgeons have performed surgical body contouring Miami for patients seeking to improve their appearance and confidence. We have served patients like you and are genuinely committed to helping you achieve your beauty goals.
This article will show you what to expect from surgical body contouring Miami and how to better prepare for it. Whether you want to learn about the costs associated with this procedure or have a specific question you would like to ask us, we want to guide you through the whole process, from your initial consultation to recovery, so that you can attain maximum results and avoid any adverse side effects linked to body contouring Miami. Take a moment to explore our site and view body contouring before and after photos of our patients.
Who is a good candidate for body contouring surgery?
Before a patient undergoes body contouring surgery, he or she must first wait until their weight has stabilized. Patients who continue to lose weight may have new sagging or undesirable contours. Our surgeons will work with you to determine whether you are a good candidate for this procedure. Some criteria to consider include:
Medical conditions that may interfere with healing from body contouring surgery.
Whether you are a smoker.
Your lifestyle, including nutrition and physical exercise.
Full disclosure of your health history to our surgeons, including medications you are taking, drugs, alcohol, tobacco, and herbal supplements.
Schedule A Free Consultation Today
What can body contouring achieve?
Body Contouring in Miami can help you to do what exercise and a nutritious diet are incapable of accomplishing on their own. As part of a healthy lifestyle, Body Contouring can take you through the final steps of the transformation you have always wanted. The sculpting surgery can add shape and dimension to virtually any part of your silhouette: breasts, arms, upper or lower abdomen or thighs.
In many cases, multiple areas can be targeted in one day, leading to speedier recovery and more comprehensive results. Upon successfully recovering from Body Contouring in Miami, many patients finally achieve the mobility, confidence and self-esteem they have always dreamed about.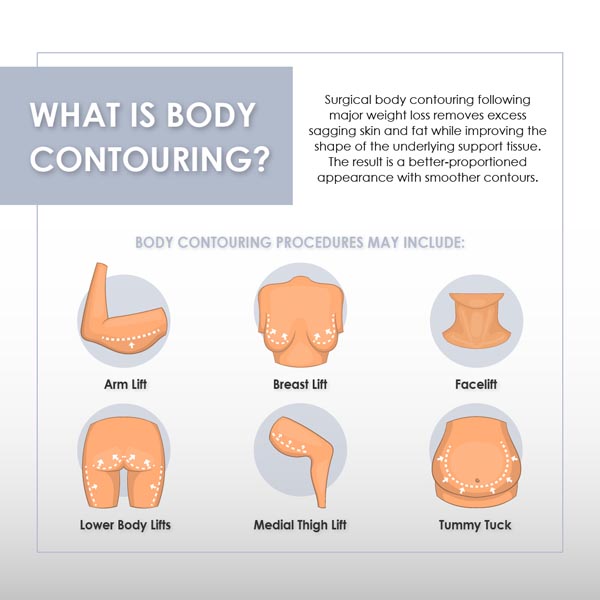 Body contouring procedures
Today, body contouring options are more plentiful than ever. It's easy for patients to be overwhelmed by the variety of surgeries and body contouring techniques available out there. Below are some of the most common body contouring procedures that many of our patients have found to help them meet their goals.
Tummy Tuck or Abdominoplasty
A tummy tuck helps remove excess skin and fat from the lower abdomen, producing an attractive abdominal contour. Abdominoplasty will reverse the effects of pregnancy and excessive weight gain by creating a slenderer and tighter profile. The abdominal muscles' structure will improve greatly and the waist diameter will decrease. Some patients may add another procedure such as liposuction to remove excess fat in the targeted areas.
Breast Lift
A breast lift is performed to counteract the effects of aging, gravity, weight loss, and childbearing. These factors can make women lose a lot of volume on the upper region of the breasts. Fortunately, a breast lift will raise the breasts to a better position and shape. There are a variety of body contouring techniques available to accomplish this as well as different sizes and types of breast implants.
Arm lift
Arm lift surgery or "brachioplasty" helps tightens underarms by reducing extra skin, tightening, and smoothing tissue to eliminate extra fat. Patients seeking toned and defined upper arms can benefit from this procedure. Unfortunately, the natural aging process and genetic factors can contribute to the sagging of the skin in this area. Regardless of the cause, arm lift will reshape your arms beautifully.
Thigh lift
When the inner and outer thighs sag, the patient is left with an unpleasant aesthetic appearance, which can be corrected with a thigh lift. While proper diet and exercise can improve this condition, it will not eliminate the sagging or skin that lost elasticity over the years, particularly in the inner thighs. Outer sagging is generally addressed with liposuction, but it is not very common. Sagging is generally corrected with an inner thigh lift.
BBL or Buttock augmentation
A Brazilian Butt Lift is used to improve the size and volume of the buttocks through fat transfer as long as there is enough donor fat. A BBL combines liposuction with the removal of fat from some specific areas of the body to the buttocks. It's crucial these procedures are performed together otherwise once liposuction is completed, the patient may not have sufficient fat deposits to transfer to the buttocks. The use of the patient's own fat leads to a natural look and feel not possible to attain with butt implants.
Liposuction
Liposuction is an effective procedure that targets excess fatty deposits in multiple areas of the body. It can help reduce and improve body contour. This procedure has less downtime than other more invasive surgeries, and it can be performed on several areas at once or used as a complementary procedure to other surgeries of the face, abdomen, and breasts.
Pros and Cons of Body Contouring
Body contouring is a surgical procedure that offers many benefits and possible drawbacks:
Patients who have lost a significant amount of weight can have the remaining stretched out skin removed as it makes the person look still overweight. Surgeons recommend this procedure as the last step in the weight loss process. Body contouring surgery will cause the body to look tighter, and the patient will be at a healthy weight able to fit comfortably into clothing.
A study published in PubMed Central shows: "Body contouring surgery following massive weight loss appears to facilitate improvement in body image and well-being."
One possible drawback for this procedure is the likelihood of complications during and after panniculectomy. Body contouring Miami includes invasive surgical procedures that carry the same risks as all other surgeries, including heart complications, wound infection, and excessive bleeding.
Scarring is another drawback. Although the patient can enjoy a firmer appearance, and eliminate excess sagging skin, some patients may not be happy with the permanent and extensive scarring. In the research mentioned above, late scarring identifiers were less concerned about their scars since the scars could be hidden in the underwear or with clothing.
This procedure is considered elective by insurance companies, so the body contouring surgery cost isn't generally covered. Therefore, patients are responsible for coming up with financing alternatives on their own. Fortunately, some clinics can create a financial plan based on the patient's budget.
How to prepare for body contouring surgery?
Preparing for body contouring surgery is an important step, which many patients tend to ignore. If you are planning to undergo this procedure, you need to prepare yourself physically and mentally. Changes in your lifestyle are also helpful. Some things to keep in mind when preparing preoperatively:
Have a complete understanding of what the procedure entails. Patients should ask as many questions as needed during the initial consultation so that they are well-informed about the scope of the procedure, risks, and recovery.
Learn about the provider's credentials and experience. Choose a cosmetic surgeon with the required credentials and adequate experience to perform this procedure. The facility should also be state accredited licensed.
The surgeon should know about your medical history to determine whether you are a good candidate for this procedure.
Disclose lifestyle factors that may slow down healing and recovery such as weight fluctuations, intake of herbal supplements, alcohol consumption, sun exposure, sleep patterns, and smoking habits.
An awareness of aftercare and your surgeon's follow-up instructions so that you can avoid complications and achieve the best results.
Stabilize your three months prior to surgery and correct nutritional deficiencies.
Make your home post-operatively ready before surgery so that you can recover comfortably.
Have a reliable support network of family and friends to help you during recovery.
Take sufficient time off work. It generally takes 4-6 weeks depending on the procedure.
Your initial consultation at Avana Plastic Surgery
The best way to know which body contouring procedures are right for you is to speak to your potential surgeon during a personalized consultation. At the time of your initial consultation at Avana Plastic Surgery, you probably decided on a surgeon whose experience and skills match your goals. The initial consultation is an excellent opportunity to learn about body contouring. Every surgeon has a preference for the scar, technique, and staging. You should also consider the human factor. Getting along with your surgeon will make the whole experience more enjoyable. Make sure you convey the results you want to achieve and whether they are attainable.
Your surgeon needs to know your complete medical history, including any medical conditions that may interfere with recovery. Depending on your background, the surgeon will tell you what surgical body contouring procedures to avoid. You should talk about any vitamins you are taking, dietary habits, and smoking habits, as it will increase the risks of serious complications. You should also mention any past surgeries you had and how long ago. Any significant emotional issues that require therapy such as depression or anxiety should also be specified and addressed by a psychiatrist or psychologist.
Is body contouring safe?
According to the American Society of Plastic Surgeons, you have to decide if the benefits of this procedure outweigh the risks. Patients are asked to sign a consent form before undergoing body contouring surgery. Similarly, the risks and benefits are fully discussed prior to the consent. Some of the potential complications of body contouring include:
Infection
Bleeding
Skin loss
Anesthesia risks
Unfavorable scarring
Blood clots, deep vein thrombosis (DVT) and pulmonary embolism
Fluid accumulation
Poor wound healing
Recovery after a body contouring surgery
This procedure generally takes several weeks to recover so that the person can return to work. Most patients go back to work two to four weeks after surgery as long as they don't have a physically demanding job. While some patients may return to work within two weeks, most may experience fatigue for up to six weeks. Returning to work too soon may lead to complications such as incision disruption, delayed wound healing issues, and infections.
After surgery, tubes are placed in the wounds to drain excess serum fluid for at least 2-3 weeks, and pain medications are given to reduce the typical pain and discomfort experienced during recovery. Soreness, swelling, and bruising during the first two to four weeks of recovery are normal. Male patients generally experience an easier recovery since they don't require muscle tightening. Women, on the other hand, experience a lot of stretching of the muscles, which may not shrink back after giving birth.
Patients are expected to attend follow-up appointments and monitor the progress. Heavy physical activity should be avoided for two to six weeks, especially during the early stages of recovery. Light walking and standing are recommended to prevent blood clots.
BODY CONTOURING MIAMI COST
The sculpting prices can vary for each patient and situation. It all depends on the targeted areas, sessions, and treatment goals. According to RealSelf reviews, the average body contouring surgery cost in Miami is $8,900 ranging from $1,800 to $18,000. Your insurance company will not cover a purely cosmetic procedure. However, there are times when body contouring surgery is performed on structures of the body affected by trauma, tumors, birth defects, and disease.
At Avana Plastic Surgery we can create a customized treatment plan that will include your budget and anticipated results. Any concerns about the costs should not hinder you from having the body you want. You can work with us to create a financial plan that fits your budget.
Choose the best plastic surgeon for your body contouring procedure
Your appearance can considerably impact your self-esteem and quality of life. At Avana Plastic Surgery we want your true self to shine forth. As you age and other life factors alter the shape and size of your body, you will feel that your body no longer presents your true self. These circumstances may necessitate a body contouring procedure to shape your body as desired. But these prominent changes are not possible without the skill and experience of a board certified plastic surgeon.
Tips for choosing your plastic surgeon
Choose a surgeon certified by the American Board of Plastic Surgery.
Check your surgeon's record, including a license to practice in the state and any disciplinary actions.
The American Board of Plastic Surgery requires that surgeons practice in an accredited facility when significant anesthesia is used. The rooms of these facilities must meet strict standards for personnel, room safety, and equipment.
Ask detail questions about the surgeon's experience performing this particular procedure, including the technique used, expected results, complications, and sedation.
Beware of cheap plastic surgery. While the low price may be enticing, there are other factors to consider such as the exclusion of additional fees, the use of outdated or expired tools to perform the procedure, and the surgeon's lack of experience or reputation.
View body contouring surgery before and after photos from real patients that confirm the surgeon's ability and training
Talk with previous patients to ask them questions about their experience. Some forums and websites such as RealSelf allow you to access this information.
Body Contouring Miami FAQs
Body contouring takes at least three months for the cosmetic results to be seen after the residual swelling resolves. Scars may take about 12 months to several years to fully mature.

Scaring is an inevitable part of every surgery, but the prominence and visibility can vary based on different factors. Our surgeons will make sure the surgical incisions are less prominent by practicing careful suturing techniques and providing you with adequate post-op instructions.

The main factor that affects the results of this procedure is weight fluctuations. As long as patient's weight is stable for at least 12 months, they can achieve permanent results. Also, a healthier lifestyle and good skin quality can help maintain the results. One of the main concerns is soft tissue laxity and scar migration, which may lead to malformations.

The full body can be done in one day depending on the amounts of excess tissue to be removed by body contouring procedures such as tummy tuck, arm lift, thigh lift, buttock lift, and any other procedure recommended by your surgeon.

General anesthesia is safe as long as is performed by a board certified anesthesiologist.

The discomfort experienced during body contouring can vary from patient to patient. As with every surgery, some level of discomfort will arise. However, pain medication will be used to alleviate any aches during the healing process.

Patients typically wear compression garments to aid with healing during recovery. During your postoperative appointments, your surgeon will determine when you should stop wearing the compression garments.

Patients who want to undergo a tummy tuck as part of the body contouring package should wait after pregnancy to undergo this procedure. While abdominoplasty tightens the muscles in the area, a pregnancy will do the opposite.

The initial consultation is free of charge for patients coming to Avana Plastic Surgery.

We incorporate the latest body contouring techniques and create a safe environment for our patients where they can reach the best possible outcomes. Our surgeons are leaders in the field of plastic surgery with a vast experience in many body contouring procedures.