As a guy, you want to retain your attractive, youthful appearance as much as females do. After all, you are subject to the same societal pressure and aesthetic standards. Fortunately, there are plenty of options for Male Plastic Surgery in Miami that can help you to achieve the physique you deserve now that you are old enough to have the wisdom to appreciate it.
Male Plastic Surgery
Before And After
BENEFITS OF COSMETIC SURGERY FOR MEN
In many ways, male plastic surgery brings the same advantages that cosmetic procedures provide to females. These benefits include:
Dramatic results with a fast recovery. Many of today's minimally invasive procedures can be performed in an hour or two with little or no downtime. As a result, patients can rid themselves of the wrinkles and sagging skin that make them look old, tired, and out of step with today's competitive world. In no time, they can regain the smooth, chiseled look of their youth;
Heightened self-esteem. When you look good and you know it, your confidence soars. As a result, you project your positivity to those around you, enhancing personal and professional relationships alike.
Defined physique. Even constant workouts and a nutritious diet can't get rid of some age-related changes. Liposuction, lower body lifts, and other male plastic surgeries can jump-start transformation that would otherwise be impossible.
Resolves medical problems. While many procedures that guys get are cosmetic, not all of them are. Male plastic surgery procedures also include those that solve problems such as abnormally large breasts (gynecomastia surgery) or a deviated septum (septoplasty).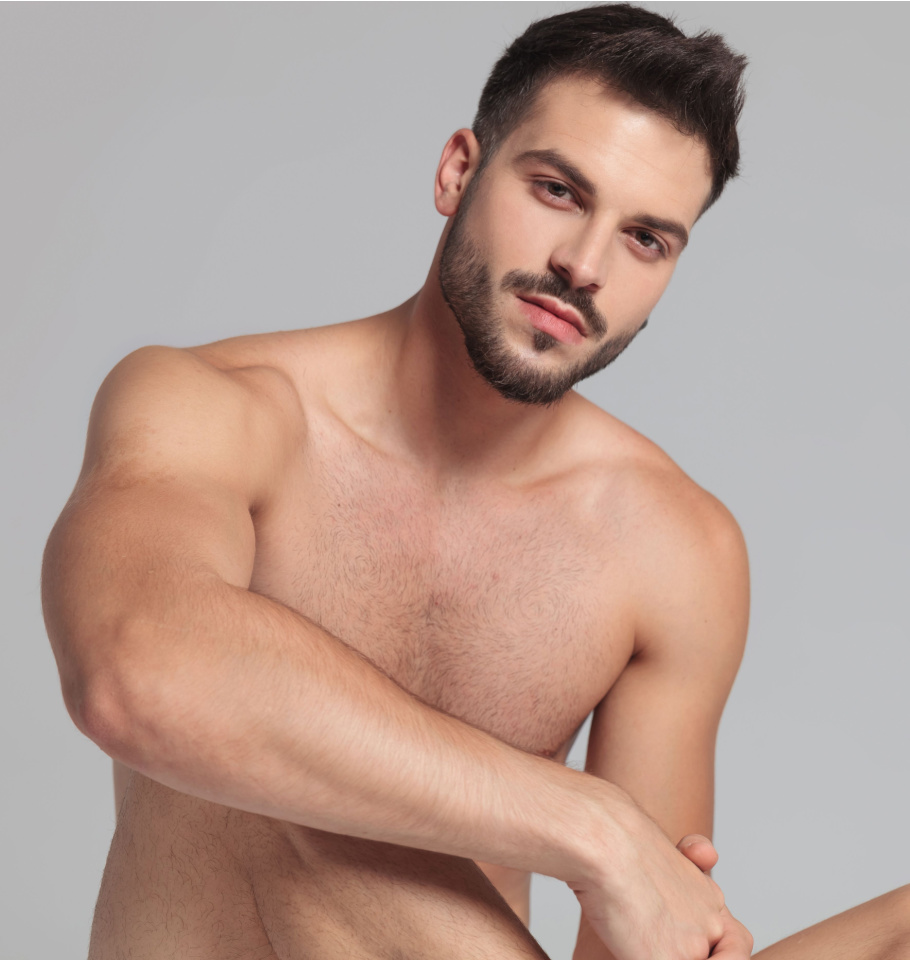 POPULAR COSMETIC PROCEDURES FOR MEN IN MIAMI
Avana offers several options when it comes to male plastic surgery procedures. Our promise to each and every one of our patients is to provide personalized procedures, clear information, and empathetic guidance throughout every step of your treatment.
We know that making decisions about your appearance is a deeply personal process, which is why we're devoted to providing you with clear and accurate insights. From enhancements to rejuvenations, Avana's commitment to excellence remains unwavering.
MALE BODY COSMETIC PROCEDURES
Male Breast Reduction (Gynecomastia Surgery)
Enlarged breasts in males are caused by a number of factors including hormonal imbalance, disease, medications, and steroid use. Gynecomastia surgery alleviates symptoms of asymmetry and sagging that can cause embarrassment, self-consciousness, and isolation from sports and other physical activities. To conduct the procedure, your surgeon makes small incisions in the area and then uses excision (cutting) or liposuction (fat removal through the use of a suction device) to take out the excess skin and tissue. The result is a flatter, defined, and more masculine chest.
Male Tummy Tuck
This procedure tightens and tones the midsection via the removal of excess skin and fat tissue. Popular with patients who have lost a significant amount of weight naturally or through bariatric surgery, this procedure usually involves an incision in the lower abdomen. During the surgery, excess tissue will be removed, and stomach muscles tightened and repaired. The result is a flatter, tighter stomach.
Male BBL in Miami (Brazilian Butt Lift)
This Male Plastic Surgery type involves taking fat from another part of the body such as the abdomen or flanks, purifying it, and then injecting it strategically into the buttocks to enhance their shape. This procedure is also done on women, but an expert surgeon accustomed to performing plastic surgery for men will understand the distinctly different gluteal contours that guys want and conduct the surgery accordingly.
Male Liposuction
The gentle removal of fat by sucking it out of the body through small, straw-like tubes is called liposuction. This safe procedure can be performed on numerous target areas throughout the body and is a less invasive alternative to tummy tucks, breast reductions, and facelifts. In many cases, it is also used to complement more involved surgeries in order to provide additional toning and sculpting. The most typical areas where liposuction for men is used include arms, love handles, and the lower abdomen, although the neck, chin, chest, and thighs are becoming popular as well.
FACIAL COSMETIC PROCEDURES FOR MEN
Blepharoplasty
Eyelid surgery can liven up droopy, tired-looking eyes and correct the appearance of eye bags and circles. Incisions are very small and scarring is minimal, with results that can make you look fresher, more alert, and years younger.
Rhinoplasty
This surgery, often called a nose job, corrects structural defects in the nose, including those that cause breathing difficulties and others that occur after a break. Once completed, facial symmetry and the shape or size of the nose are improved, with anomalies such as a bulbous tip eliminated.
Face and Neck Lift
Gravity and age lead to changes in the skin and neck, including wrinkled skin, sunken cheeks, a haggard appearance, a "turkey neck," jowls, or a double chin. Face and neck lift surgery can mitigate all of these negative symptoms by removing excess tissue and lifting and contouring what remains to promote a smooth, youthful appearance.
DADDY MAKEOVER
The male counterpart of the well-known mommy makeover, a daddy makeover is an umbrella term for a group of procedures performed all at once that are designed to rejuvenate the body for a firmer, more youthful, and muscular appearance. Options for this male plastic surgery in Miami include:
Facial rejuvenation (forehead lift, facelift and neck lift to add smoothness, contour, and volume to the face);
Less invasive facial treatments (dermal fillers, Botox, that have a similar but less dramatic and more temporary effect);
Gynecomastia surgery to balance or correct chest physique;
Rhinoplasty to correct a wide, asymmetrical, or previously broken nose;
Tummy Tuck or Liposculpture to tone and contour the midsection;
Abdominal Etching to define your abdomen;
When combined into one daddy makeover, this type of plastic surgery for men in Miami can have dramatic, affordable, and lasting results.
BEST CANDIDATES FOR MALE PLASTIC SURGERY
It is important to carefully consider all aspects of Male Plastic Surgery in Miami before you embark on this transformational journey. After all, every procedure has some level of risk, and you need to have a thorough understanding of the potential downsides as well as your goals and the recovery involved.
In general, good candidates for plastic surgery for men will:
Be in good physical health;
Not smoke or use street drugs;
Have reasonable expectations about goals and outcomes;
Have symptoms or issues that cannot be solved by non-surgical means.
COSMETIC SURGERY TAILOR TO YOUR NEEDS
At Avana Plastic Surgery, we understand that every man is different. The cosmetic surgery for men plan that is right for your neighbor will not necessarily be best for you.
That is why we listen to each patient's story, including his goals and aspirations. Once we hear what concerns have brought you to us and describe your ideal appearance, we will explore the various male plastic surgery procedures available to you and arrive at a targeted, comprehensive treatment plan.
Cosmetic surgery for men offers a wide array of appearance-enhancing choices: hair restoration, sculpting, facial rejuvenation, breast reduction, tummy tuck, buttocks lift, and much more. Today's cosmetic options mean that you no longer need to be trapped in a body that causes you unhappiness or discomfort.
SCHEDULE A FREE CONSULTATION
AT AVANA PLASTIC SURGERY
We know that you have many choices when it comes to Male Plastic Surgery. However, no one offers the gold-standard care, patient-centered focus, and surgical expertise that are the hallmarks of the Avana Plastic Surgery. Take some time to learn about the surgical options that can transfigure your tired, aging appearance into the fresher, younger you that has been hiding inside. Call Avana Plastic Surgery today at (305) 501-6000 to schedule your free initial consultation.